Dear Valued Customers,
In view of the declaration made by the OMS of a Pandemic caused by the new coronavirus (COVID-19), its aggressive proliferation on a global scale and in full respect for the wellness of our employees and customers, COSCO Shipping decided to adopt as from the March 19th the Home Office system, remaining with its office in Santos closed indefinitely.
Only the Counter Team will be working for a reduced period, between 9h30am and 11h30am, in order to proceed with the appropriate OBL issues.
In this case and in order to try minimize the impacts on daily tasks, we will adopt below criteria for release of Import cargo:
​- It will be necessary to send a photo of the original BL duly marked with the clause "VOID AND NULL" on the body of the BL, tear off the part where the number appears, according to the below format: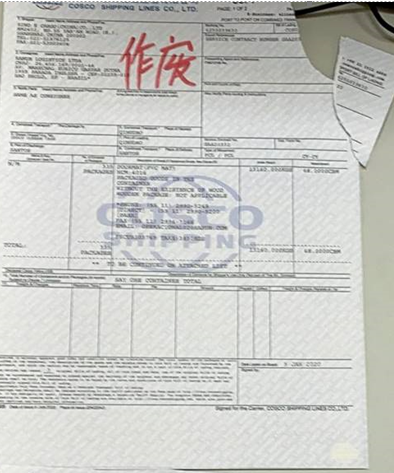 In addition, consignee must request shipper to send a message bra.counter@coscon.com, authorizing the cargo release.
Regarding to export demands, we suggest customers choose to issue BL at the destination or select the Telex Release option.
​We kindly ask understanding for everyone at this moment of great attention and in case any doubt please let us know.
If you want to access this notice in PDF, click here.
Yours sincerely,
COSCO SHIPPING Lines